Most of us pay our utility bill without paying much attention to the numbers strewn across the page. But even if you did take the time to study the invoice, would you understand what each section means?
There are plenty of benefits in taking a closer look at your energy bill. You can learn how much electricity you use each month and view the breakdown of charges. Take a look at your "Monthly Usage History" graph to view the previous 13-month usage.
To find out more about your utility bill and how to decipher it, we gathered the main sections you'll want to zero in on next month.  As always, contact us at 1-800-279-2249 if we can answer any questions!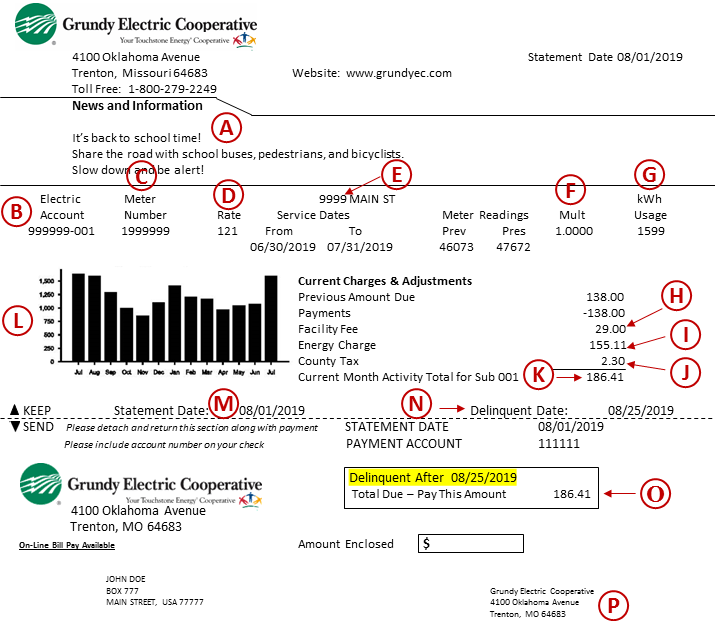 A. Message Center – You will always find important messages in this area.
B. Account Number – Each service billed to you contains your member account number.
C. Meter Number – This is the individualized number of the meter attached to your service address.
D. Rate Code – Classification such as residential, small commercial, three phase or large commercial.
E. Service Address – The address location of your electric service.
F. Multiplier – A multiplier is used to compute KWH used.   
G. KWH Usage – Kilowatt Hour consumption between meter reading dates.
H. Facility Fee – The recurring monthly charge for service.
I. Energy Charge – This charge is calculated by taking your KWH usage times your electric rate.
J. Tax – Any applicable tax on your usage, per the sales tax card signed by member.
K. Current Electric Charges – Total amount of your bill for this account.
L. Usage Chart – You can manage your usage by viewing your past 13 months of usage.
M. Due Date/Statement Date – The date the current bill is due.
N. Delinquent Date – If payment is not received by this date, a penalty will be added to your account.
O. Amount Due Stub – The amount due for this billing period to include current and past due balances; all accounts combined.
P. Mail Address – The remittance stub should always accompany your payment.  The payment stub contains important information to post your payment correctly.